Decided I would take a final shot at a First Pick Simulator Mock and here is what my final mock looked like:
with the 11th selection I had multiple players of interest on the board as well as an offer from Washington that would net me another second round selection. With multiple players of interest on the board I easily made the decision to make the trade with Washington moving down to the 15th selection in the first.
Round 1 - 15th Selection:
Jawaan Taylor - OT - Florida - 6'5" 312:
No I don't think he will be here at 15 and doubt he will be there for us at 11. I also had Cody Ford on the board and gladly would have taken him here as well.  Taylor fills arguably the biggest void we had last season and that is a physically dominant RT. Yes we signed Hart and it is always good to have experience on the bench. Taylor is a day 1 and 10 year starter. I also would not take him out of future consideration at LT when Glen is done.  If it makes anyone feel better insert Ford here as well as starting RT.
Round 2 - 10th Selection:
Rock Ya Sin - CB - Temple - 6'0" 192:
I had no intention of selecting a CB here but when he slid I had to let the draft come to me. Speed, size, strength, feet combination is elite. Yes only 1 season at the FBS level but all the tools are there. Needs to improve in technique but his progressions have shown that it should not be an issue. Everything is there for this kid to be an absolute shut down boundary CB in the NFL.
Round 2 - 14th Selection:
Chris Lindstrom - OG - Boston College - 6'4" 308:
It is extremely difficult to find any glaring weakness in the game of Lindstrom. He is just physically and technically sound in virtually every aspect of the game. Could get stronger and should. Could be better and should. While he is not amazing at any one thing he is above average in all aspects. Should have a very long and successful NFL career as a interior lineman. Yes we signed John Miller and he will get to compete. I just think Lindstrom wins the job. Just as with Hart this is not an issue in that we now have outstanding depth on the line. It becomes a strength rather than the glaring weakness we have had.
Round 3 - 8th Selection:
Mack Wilson - LB - Alabama - 6'1" 240:
Not sure why but here recently Wilson has slipped a little bit on boards and that turns out greatly in our favor here. Wilson is s do it all LB that is strong against the run and in coverage. Not flashy just technically sound. Solid tackler that has shown a high football IQ. The link we have been missing on this defense for some time now. Starter as the WILL in the base and MLB in the nickel.
Round 4 - 8th Selection:
Bobby Evans - OT - Oklahoma - 6'4" 312:
I had no intention of going OT here however when Evans fell to us then I did not hesitate. We go as far as the O line goes. If Glen is injured we are in trouble....not now. Evans is a physical, physical lineman. Started at RT until Orlando Brown graduated then took over LT duties and did a very good job. Evans uses very good hand placement and has the nasty streak you are looking for on the O line. I think in Evans you have a day 1 swing tackle that could start on either side yet could as well be a good interior player because of the core strength he plays with.
Round 5 - 11th Selection:
Drew Sample - TE - Washington - 6'5" 255:
A very under used weapon at the University of Washington. Very good blocker who uses good strength and hand placement in the running game. Very soft hands and good speed. Understands the receiving game and has shown a knack to help his QB out when things break down. Very focused when targeted. I would not be shocked to see Sample make the opening roster as an active.
Round 6 - 10th Selection:
Joe Giles-Harris - LB - Duke - 6'2" 234:
Thrilled to see him sitting here for us. Another complete technician that is just solid as an all around player. Giles-Harris ran a solid 4.75 at the combine and has shown an outstanding football IQ. While he may not have the natural gifts of other players he makes up for it by playing extremely smart. We were hurting last season when Preston Brown went down and a guy like Giles-Harris could go along way to ease that pain.
Round 6 - 25th Selection: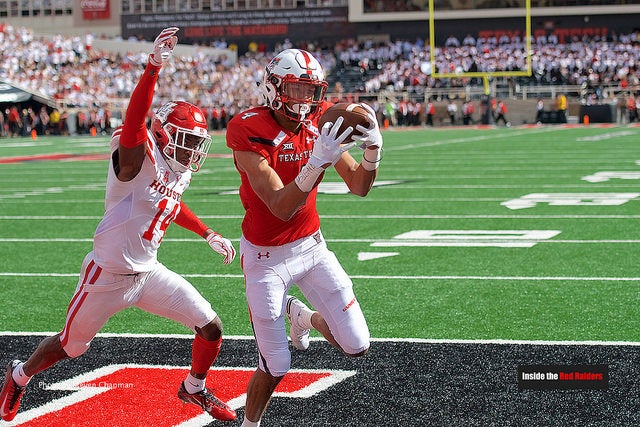 Antoine Wesley - WR - Texas Tech - 6'4" 206:
Wesley may not be a burner but he plays with functional football speed and understands how to use his talent to get separation. Elite hands and ball skills. Runs outstanding routes. May be the most polished receiver in this draft. Just the type receiver that could push and established player off of a roster.
Round 6 - 37th Selection:
Maxx Crosby - DE - Eastern Michigan - 6'5" 255:
The kind of prospect that could really benefit from developing in a NFL training weight training program. Has the frame to bulk up and add functional strength without losing twitch or speed. Has shown some really good things but certainly will need to continue to develop and become stronger at the NFL level.
Round 6 - 38th Selection:
Travis Homer - RB - Miami - 5'10" 201:
What jumps off of film about Homer is his ability in pass protection. This kid is already better than a majority of the backs that have been in the league for years now. As a back he is just a good all around prospect. Good speed and hands. Able to get to the edge or run between the tackles. Should be a good fit in our rotation to spell Mixon.
Round 6 - 40th Selection:
Justin Hollins - LB - Oregon - 6'5" 248:
Just learning to play the LB position after being moved from the edge. Big, fast, strong! Ran a legit 4.5 at the combine. While just learning to drop in coverage and play the LB position he has been a very quick study. In only his second season playing LB he had 1 INT and 7 passes broken up and also forced 5 fumbles. There is nothing that has shown his development as slowing down either. Should be instrumental in us helping to remake this LB corp.
Round 7 - 9th Selection:
Jordan Brown - CB - South Dakota State - 6'0" 201:
Very solidly built small school prospect. Checks all the boxes for size, speed, and length. Got a Senior Bowl invite and showed he fit right in with the level of competition. Look for him to push others that are currently on this roster.
And there you have it for my final draft. In this version I am now adding two players that were still on the board that I would make priority college free agents.
1)
Byron Cowart - DT - Maryland - 6'3" 298:
A former 5 star prospect who's collegiate career did not turn out as planned. Had originally went to Auburn before transferring to Maryland. A 3 technique with has flashed some Geno type ability.
2)
Jazz Ferguson - WR - Northwestern State - 6'5" 227:
I cannot imagine someone not taking a chance on this freakish abilities in the draft but if they don't then go get him. Ran a 4.45 at the combine with just an absolutely ridiculous catch radius. Absolutely needs some refining and polish but if you can get him to put it all together then you have an elite weapon.