First Round - Pick 11 - Devin Bush - LB - Michigan
I'm Pretty sure I was the first person on these boards to be on the Bush hype train late last year and I mocked him in the 2nd round of every mock till after the combine.  I have always viewed him as a top 15 pick in this draft and his value is even higher considering the total lack of talent at the position this year.
Devin Bush was voted the 2018 big 10 defensive player of the year and was widely considered not only the best player at Michigan but also their team leader.  He fits the role as a WILL perfectly and fills the biggest hole on our roster after releasing Burfict in the offseason.  For all of you who believe he is too small to play the position I want you to watch a simple piece of footage.
It is totally ridiculous that the same people who hype up Devin White will say Bush is too small when they are basically the same exact size.  Physical testing is also so close you seriously can't make a case for White to be a top 10 pick without putting Bush in that same consideration.  Bush also has the bloodline considering his father was a Superbowl winning linebacker who has coached him his entire life.
Where Bush separate's himself from Devin White is his football IQ and ability to diagnose plays.  White is still behind because of his lack at time at the position and while I feel both should start off as WILL linebackers,  I feel the upside to White is that he may be able to transition to MIKE eventually while Bush will probably always be a pro bowl level WILL.
Second Round - Pick 42 - Dexter Lawrence - DT - Clemson
There are things that happen every year in the draft that have you scratching your head.  For some reason, people are not valuing 1 tech/NT guys right now in the draft circles, but when I look at Dexter I see a guy who may be the most athletic Nose Tackle to ever come out of college.  You can run him in a 4-3 next to Atkins and with his enormous arms, ridiculous strength, and insane quickness you have a guy that will both secure the run game and push the pocket.  If they transition to a 3-4 permanently or just option into it sometimes, you have a guy who potentially could be the best Nose Tackle to ever play the game.  
Let me put it this way.  Dexter Lawrence is so good that if they drafted him at 11 I couldn't fault them if they somehow work out this voodoo magic I would be over the moon.
Round 3 - Pick 72 - Joe Jackson - DE - Miami
Jackson is a player with a ton of upside who spent the majority of this year learning to play 30lbs heavier.  He is extremely athletic running a 4.77 at his pro day and has all the physical traits to be a great 4-3 Defensive end at the next level.  While he had a good college career I obviously feel that he will shine at the NFL level and may be one of the steals of this draft.  We could see him drafted even as high as the 2nd round and I love him as a full-time replacement for MJ moving forward.
Round 4 - Pick 110 - Chuma Edoga - Offensive Tackle - USC 
Edoga is a player that most people on these boards probably won't be super aware of because the draft pundits haven't given him much attention.  What has really stoked the flames of hype on this guy is an article written by PFF (
https://www.profootballfocus.com/news/draft-ranking-the-top-five-offensive-tackles-in-the-2019-nfl-draft-by-pass-blocking-efficiency
)  Listing him as the best pass protection Tackle in this year's draft.  It's particularly impressive when you evaluate him with other guys on the list and the fact that we need a Right Tackle on this team like a fish needs water.  He is also impressive as a run blocker and I could see him shooting up boards draft day, but at this time he's being evaluated in the 3-5 round range so that's where I put him.
Round 5 - Pick 149 - Darius Slayton - WR - Auburn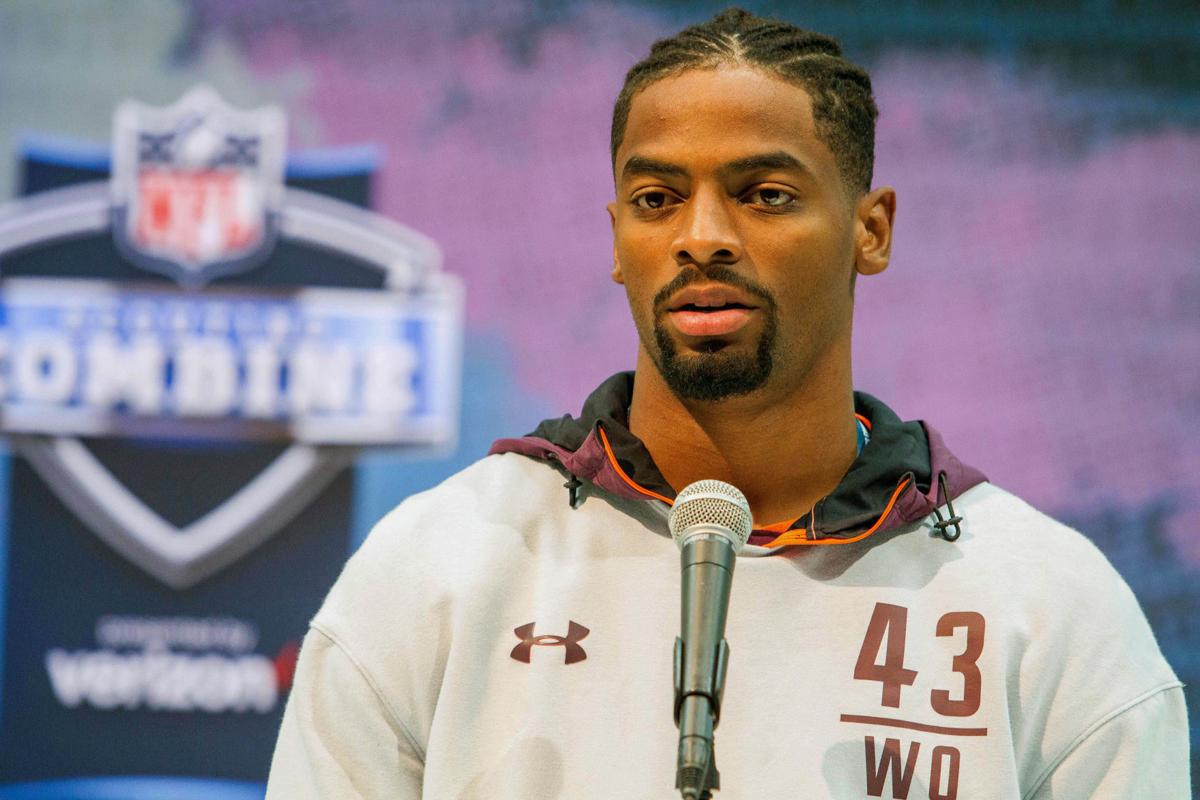 Slayton is another guy who isn't as well known because he played on the other side of DK Metcalf at Auburn, but will end up being a better pro than a college player.  The guy has all the physical traits 6'1" with long arms and big hands.  He ran a blazing 4.39 at the combine which gives him a lot of upside if he can polish up his route running and problems with drops.  He will provide us with quality depth and has the upside of being a starter moving forward.
....................................................
Round 6
Pick 183 - Corey Ballentine - CB - Washburn
Has only two years playing football but was a track and field star in college.  He has the work ethic and physical traits to develop into a potential starter while offering us depth at the position that we need.  He has above average tackling and will play primarily in zone schemes.  
Pick 198 - Elijah Holyfield - RB - Georgia
We need depth at this position and while Holyfield didn't have the best combine testing his tape looks really good especially for 3rd RB.  Yes he ran a terrible 40, but his production with the Bulldogs tells me that he has what it takes to play in the league.  I see him much more as a Goal line guy and if he's anything like his father he will be tough as nails.
Pick 210 - Oli Udoh - Tackle - Elon
Ok so let's just start with the fact that he has the best picture at the combine.
Talk about a big nasty offensive lineman this guy screams developmental guard to me.  While he's currently projected as a tackle he has some nice physical traits and the power to move inside at the NFL level.  What's even more insane is that he ran a 5.05 40 at 330 pounds and with his athletic testing I could see him transitioning to defensive line possibly.  At the worst, the guy could be a backup with a lot of potential or at best they can use his physical traits to turn him into a starter.  What else could you ask for this late in the draft?
Pick 211 - Gary Johnson - LB - Texas
Athletic LB that can play special teams and possibly be a backup at WILL
Pick 213 - Mitch Hyatt - G - Clemson
Former blue-chip recruit coming out of high school that never reached his potential in college, but was credited as being the guy who turned around Clemon's offensive line.  May end up being a much better guard than he was a Tackle he has the potential to be a starter but by all standards was a bust at the college level.  I like the potential this late in the draft.
Round 7 - Pick 223 - Jazz Ferguson - Northwestern State
6'5" former 4-star recruit who ran a 4.45 at the combine and has tested athletically very well.  Was a bust at LSU, but after moving Northwestern State showed a lot of improvement.  We need camp bodies and guys who show potential at the WR position because outside of AJ Green and Tyler Boyd the rest of the roster is extremely questionable.