I did a mock draft after our first wave of free agency, which was Reader, Waynes, Alexander and Su'a Filo.
Now I will do a mock draft after our second wave of free agency, which included Vonn Bell, Josh Bynes and LaShaun Sims.
And this may be my favorite mock draft, if I'm being perfectly honest.
1 Joe Burrow, QB LSU
33 Zack Baun, EDGE/LB Wisconsin
65 Donovan Peoples-Jones, WR Michigan
107 Tyler Biadasz, IOL Wisconsin
147 Jack Driscoll, OT Auburn
180 Jacob Phillips, LB LSU
215 Jauan Jennings, WR Tennessee
To me, this is drafting a potential contributor at every single pick!
Joe Burrow is the easy pick. Nothing is getting in the way of the Bengals drafting their franchise QB. Not even 3 first round pick offers from Miami.
In the 2nd, I'm REALLY warming to the idea of Zack Baun, especially with Queen and Murray consistently not being there at 33. I really like these two tweets put out by Joe Goodberry explaining why Baun may be an ideal pick up for the Bengals:
What do I think Taylor hates to gameplan around? Those hybrid type defenders. The ones you can't always identify pre-snap.

Maybe that means Zack Baun at 33. If I had to post the odds for that pick, I think he's the favorite.

— Goodberry (@JoeGoodberry)

[Must be logged in to view this link]
I also liked when

[Must be logged in to view this link]

said "Zac Taylor knows what he hates as an offensive coordinator and it ain't serviceable linebackers."

That's why their LB unit currently consists of:

Germaine Pratt
Jordan Evans
Brady Sheldon https://t.co/ScNfb0Nomh— Goodberry (@JoeGoodberry)

[Must be logged in to view this link]
Serviceable linebackers don't make offensive coordinators sweat. But hybrid guys that may rush the passer or may drop back in coverage? Those guys can be scary.
Now, Baun is not an amazing athlete or anything and that's basically his biggest knock, but scouts are confident that he has the agility and awareness to drop back in coverage and he obviously has the skill set required to rush the passer. This is an ideal pick for the Bengals defense and basically is the last remaining day 1 need for this defense to function well in 2020.
Peoples-Jones is a bit of a "pet pick" for me. He is being criminally underrated because he didn't have a ton of production at Michigan, but when you look at what he had at QB, you start to realize why. He was the #1 receiver coming out of high school and, when the QB was able to get him the ball, he showed why. He's got incredible hands, ideal size, amazing athleticism and outstanding body control. He isn't one of these jukey slot receivers, but he has a place on the outside and, as a 3rd round pick, doesn't have the pressure to contribute on day 1. I listened to the critiques of my last draft and backed off the 2nd round receiver, but I maintain that if we don't get one of the top 12 WRs in this class, it will be a complete waste of an incredibly deep WR class where you can get a 1st round talent in the 2nd or 3rd round.
Biadasz falling to the 4th round is perfect for me. It's not unreasonable either. It's where the draft network has him projected, after all. He could immediately compete at guard with Su'a Filo and Jordan, and he will be a quality back up at Center who could potentially overtake Hopkins, if the cards fall that way. He isn't an athletic freak, which is why he has lost value as the season has worn on, but he is incredible powerful and experienced and I would be very confident starting him on week 1 anywhere on the interior of the offensive line.
Jack Driscoll is another player who isn't an ideal athlete, but has shown on tape that he is a capable and powerful player. He probably won't compete with Hart for RT in his rookie year, but he does provide a capable back up at RT.
Jacob Phillips is a pure value pick for me in the 6th round. I think he could go as early as the 4th round. He's a competitive player who is best against the run, but he could potentially project to be better in coverage if he can get his instincts down. If he turns out to be nothing, then it's just a 6th round pick, but if he is able to offer defensive snaps, that is a bonus for the defense.
Jauan Jennings is another pure value pick for me. The fact that he's falling to the 7th round now after his poor 40 yard dash time just goes to show you people don't understand what he was good at in college. He's very big, very strong and can break a lot of tackles after the catch. He's also a quality run blocker. He isn't elusive, but with the catch radius and strength he has, he doesn't need to be. I don't know that Jennings will be able to get open at the next level, but if he can, he will create a lot of yards after the catch!
To me, this draft leaves us with no GLARING holes going into the 2020 NFL season. We still have positions that we could upgrade over time, but no position is irredeemable, like so many were last season. I really feel good about this draft class and I'd be stoked if it occurred this way!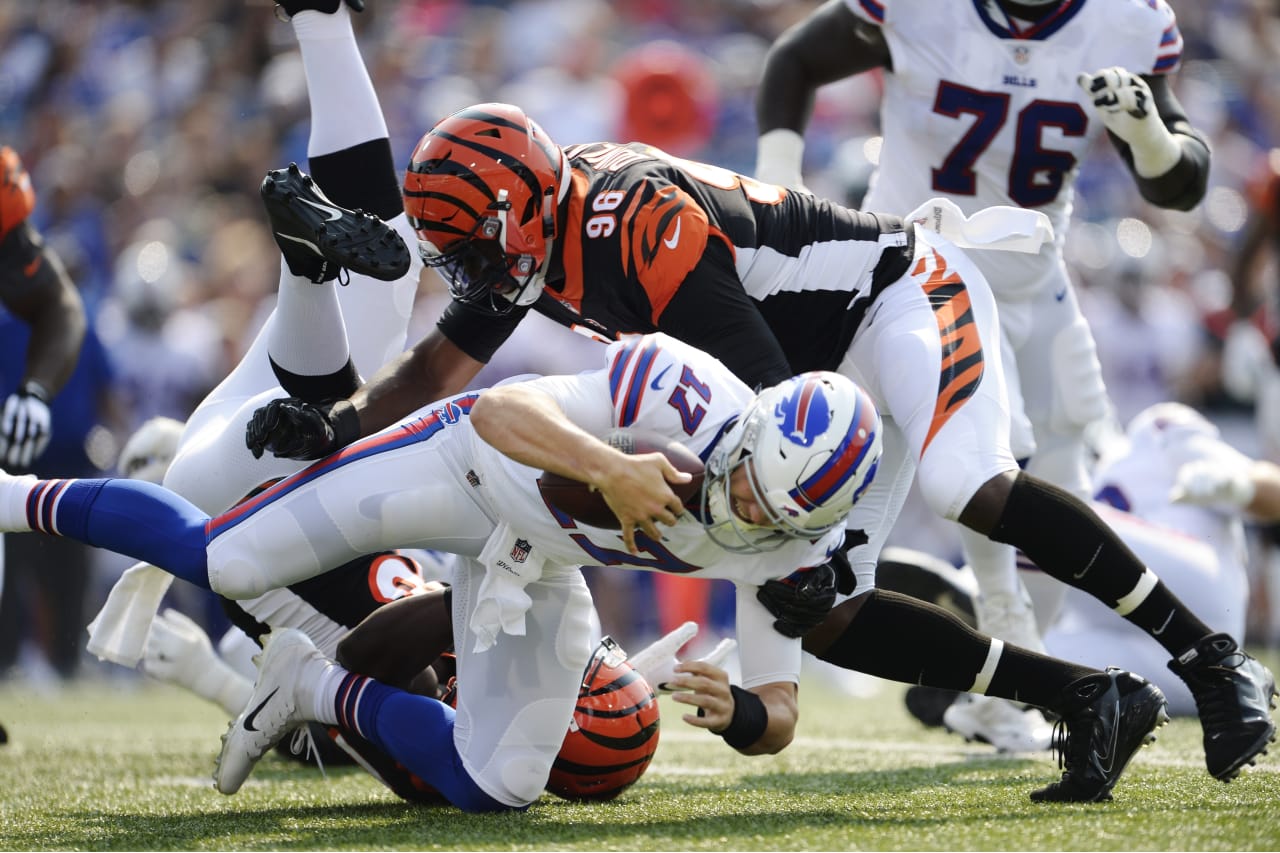 Original Bengals Message Board:
Join Date: Feb 2008
Location: Cincy
Posts: 10,641
Rep Points: 22028